Christmas Day is one of the most important dates on the NBA calendar, and not only because the league takes over national TV with five marquee games. It's also the start of fan voting for the All-Star Game, which this season will take place in Chicago on Sunday, Feb. 16.
Now that voting has been open for a week, we've gotten the first batch of early returns back, which gives us an idea of who's in position to earn a starting spot. As a reminder, the two top vote-getters in each conference are made captains for the All-Star Game, but fan voting is only 50 percent of the equation to determine the starters. Players and media also get votes, each of which make up an additional 25 percent of the tally.
Following the first week of voting, the two players in the lead in their respective conferences are Dallas Mavericks sensation Luka Doncic, and the reigning MVP Giannis Antetokounmpo. Voting remains open until Jan. 20, so some of these positions are tenuous, but let's take a look at some takeaways from the initial voting period.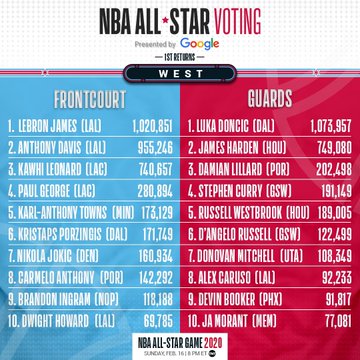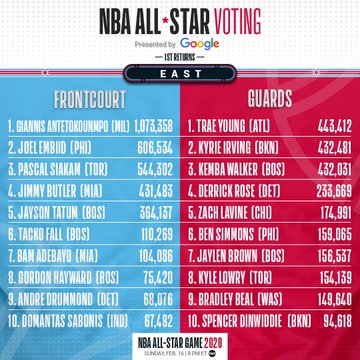 1. Race for the most votes is razor thin
Last season, the two captains were LeBron James and Giannis Antetokounmpo, who ran away with the fan vote. As expected, they're both among the leaders again this season, but a new contender has emerged. And, in fact, not only is Luka Doncic challenging them, he's actually in the lead after the first week of voting with 1,073,957 votes. 
That gives him a narrow 599-vote margin over Giannis for the overall voting lead, and a 53,106-vote advantage over LeBron for the lead in the West. Given how things are shaking out in the Eastern Conference, it appears Giannis will have no trouble locking up one of the captaincies. However, both the overall vote leader, and the Western Conference captain are very much up for grabs.
It will be pretty interesting to watch how this all plays out over the next month. Fan voting for the All-Star Game is definitely not the most prestigious honor players are chasing, but it would be pretty impressive if Doncic outmuscles two icons for the top spot in just his second season. 
Courtesy: CBS Sports